We Make Your Life Easier.
Curious How We Do This?
No Tools / No Extra Parts / No Headaches
Expect The Best With Arnold's Office Furniture
Arnold's Office Furniture has been an office furniture industry expert since 1929. Originally working with used office furniture until the mid-2000s, Arnold's shifted gears, leaving the world of used office furniture for sale behind, and focusing their business on new, revolutionary office furniture with a wide selection and wide variety.
Enter Arnold's best-selling office furniture product: the Sunline sliding cubicle system. As the leading supplier of the revolutionary Sunline Signature Cubicle System, we've quickly changed the once boring and dull cubicle design, into a fresh, fun, functional, and affordable workstation. In fact, our cubicle is one of the easiest to assemble while being one of the most cost-effective and best-looking options on the market.
Arnold's has you covered with a full line of quality, modern, affordable office furniture, too. We offer innovative products from file cabinets to I-shaped desks and everything in between. Consider us your one-stop shop for everything from office desks to cubicles to conference tables — and everything in between.
Even better…
Our designers can help you with ways to create a beautiful and affordable office to fit and fill your available space.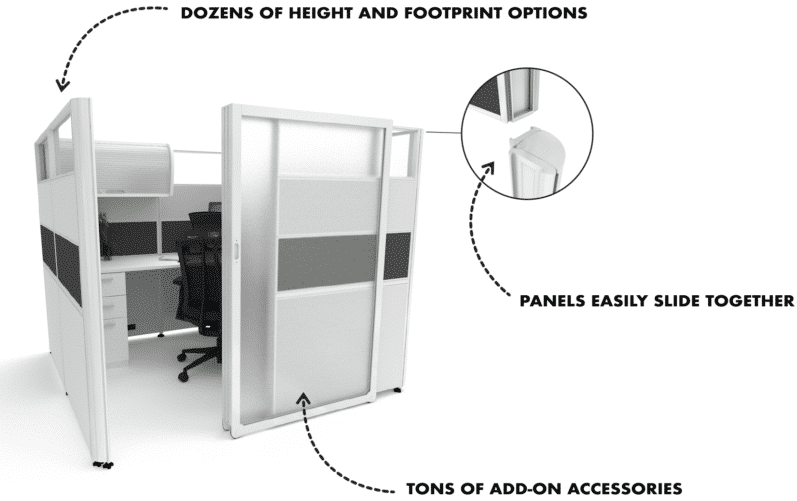 Arnold's Office Furniture Testimonials
With Google Reviews
Our Office Furniture Catalog
Includes:
If you're looking to revamp an old office or design a completely new workspace, check out our complete office design guide. From choosing the right office space and laying out your office to choosing and installing furniture, this guide will help you through every important step of the office design process.
Healthier
Workspace
A Healthier Workspace starts with taking the right precautions against spreading germs and keeping your employees safe. We're here to help you understand and better equip your employees with barrier-promoting functional, new office furniture to help prevent the spread of germs in your company offices.
Your Dream Office Space
Awaits
Ready to transform your office with the best cubicles and office furniture ever? The team at Arnold's Office Furniture would love to help you get started. Feel free to request a free quote online or call (866) 781-5851 with any questions. We are ready to get you into your dream office – with a full sales team and design team on hand 24/7.
If you're local and need us, we'd love to have you stop by and visit our showroom, located right outside of King of Prussia, in Bridgeport, PA. Our office furniture showroom hours are 8:30 a.m. to 5:30 p.m. on Monday through Friday, with weekend hours available by appointment.
Visit Our Showroom
Have Questions? Want A Quote?
Contact Us!
Arnold's provides smart solutions to your office furniture needs. Let's work on your project together!